Sponsorship Opportunities
The FEFCO Summit is the event where leaders meet to share stories and discuss the agenda for the corrugated industry.
 
The next one on 18-20 May 2016 in Berlin theme is "Amazing Corrugated". The programme will involve some of the top Speakers in Europe who will share with us their knowledge on the direction and flow of the corrugated industry in the next decade. They will also explain how to better communicate Corrugated benefits to Retailers and Customers and help them make the best choice of packaging.

We are pleased to invite you to sponsor this 'must be' event. In counterpart, we will offer you a unique cost effective branding opportunity with direct access to your core Customers. With nearly all key industry leaders in attendance, this is an actual opening to the personal one-to-one marketing approach at high level.  During 3 days, you will interact with decision makers to understand they issues and explain your active solutions.

As Sponsor, you will have the choice between various packages to position your business . Thanks to a tailor-made sponsorship programme, you will be able to decide how to be been seen and where to make the difference.

Sponsors may take full responsibility for part of the event or associate their name to certain activities either individually or – when possible - in collaboration with another company.

Please take a look at the information below and get a feeling of what to expect in Berlin.

Profile of London Summit 2014 delegates by country and function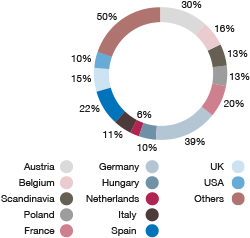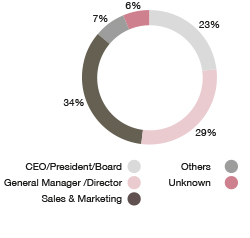 A variety of promotional packages are available, each providing an effective way to target your message.
Acknowledgement in all publications (E-mailings, FEFCOnnect, Summit Mini Programme)
Acknowledgement on the FEFCO Summit website
A hyperlink to your company's website
Opportunity to display promotional material for the duration of the Summit
Endless possibilities with the Mobile App
And much more...
Please take a look at the Sponsorship brochure, available here, make your choice, complete, date, sign and return to us the Sponsorship Form.
For more detailed information or tailor-made proposals, please contact Nathalie Schneegans at nschneegans@fefco.org or on +32 2 650 08 32.