Corrugated board production
Corrugated board is made from a combination of flat sheets of paper (called "liners") glued to a crenulated corrugated inner medium (called "fluting"). These layers of paper are assembled to one another (typically using a starch glue) in a way which gives the overall structure a better strength.
Most commonly, a single layer of fluting is sandwiched between two liners. This type of construction, as shown in Figure 2, is known as single wall corrugated board.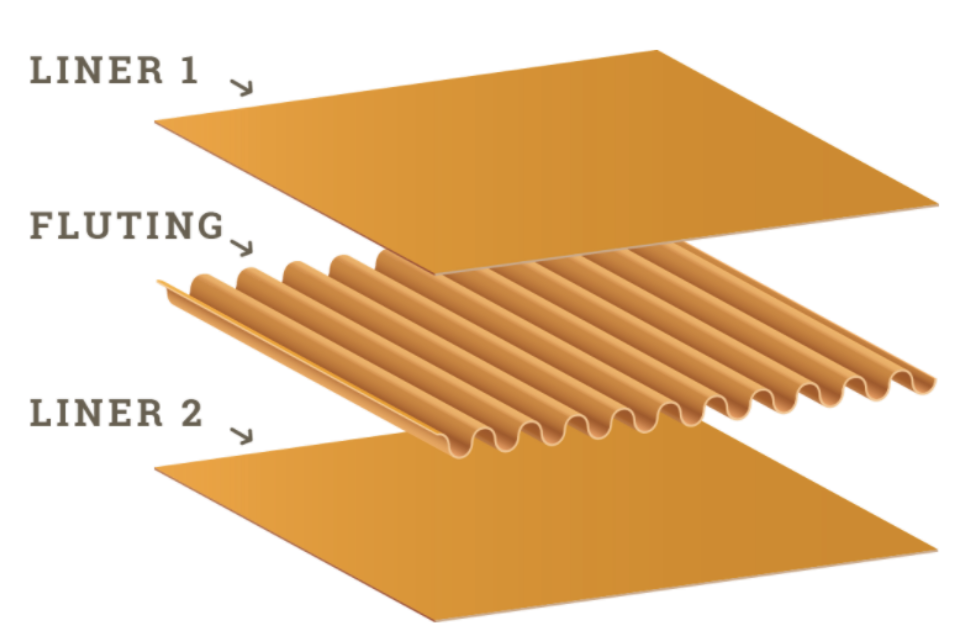 Double wall and triple wall boards are also available on the market. A corrugated board grade called single face board consists of corrugated medium glued to only one flat liner (see Figure 3).
Various structures of corrugated fibreboard are illustrated below (after ISO 4046):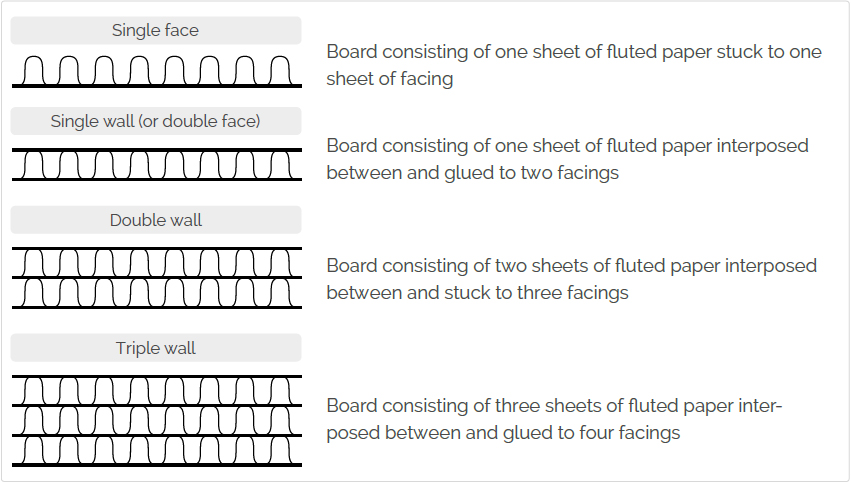 This ingenious construction forms a series of connected arches, a geometric form that is well known for its ability to support strong weights. This structure gives corrugated board considerable rigidity and resistance. The air circulating in the flutes also serves as an insulator. These properties of strength and insultation mean that, when converted into boxes, corrugated board provides excellent protection of the packed goods against damage and temperature variations.
The corrugated board industry is made up of three types of plant:
•Sheet plants – these take in liner and fluting paper and produce corrugated board in sheets which is sold on to box plants for production of boxes
•Box plants – these take in sheets of corrugated board and convert them into corrugated boxes
•Integrated plants – these take in liner and fluting paper and produce corrugated board, which they then convert into corrugated boxes. They may also purchase some corrugated board in sheets from other sheet plants to supplement their own production. Conversely, they may also sell some corrugated board in sheets to other box plants.The majority of production in Europe is in integrated plants.
Reels of fluting and liner are fed into a machine called a corrugator (Figure 4). The fluting paper is conditioned with heat and steam and fed between large corrugating rolls that give the paper its fluted shape. Starch is applied to the tips of the flutes on one side and the inner liner is glued to the fluting. The corrugated fluting medium with one liner attached to it is called single face web and this travels along the machine towards the double backer, where the single face web meets the outer liner and forms corrugated board. A number of layers of single faced web may be built up to produce double and triple wall corrugated board (Figure 3). The corrugated board is slit into the required widths and cut into sheets which are then stacked or palletised.

The main conversion steps when converting corrugated sheets into corrugated boxes include printing, slotting, folding and gluing. The printing and gluing steps may be absent, depending on the specific design of the corrugated box. Depending on design, corrugated boxes are typically delivered to the end user as flat blanks (Figure 6) ready for erection (Figure 7). This ensures space efficiency during distribution.
Most boxes are printed in one or more colours to identify the product they are going to contain, the product manufacturer, the box manufacturer and other information regarding the distributed goods. Different converting operations are carried out according to the customer's specification and according to the type of packaging. The two main categories are the regular slotted box and the die-cut box. The latter concerns packaging that requires a very precise cutting and which can have a complex design. 
Regular slotted boxes are usually produced with an in-line flexographic Printer/Slotter/ Folder/Gluer which, in one operation, prints, cuts, folds and glues the board into its final shape. The die-cut boxes are manufactured on a die-cutter (rotary or flatbed) which cuts and creases the board. After converting, the corrugated packaging is put on a pallet and delivered to the customer.
Corrugated base papers and corrrugated board 
This study covers the production of the following grades of corrugated base papers5:
•Kraftliner, including brown kraftliner, white top kraftliner and white coated kraftliner
•Testliner, including brown testliner, brown kraft top liner, uncoated white top testliner, coated white top testliner, and mottled testliner
•Semi chemical fluting
•Recycled fluting and light-weight recycled medium.
These materials are used to manufacture corrugated board, which is then converted into corrugated packaging solutions (corrugated boxes) and other corrugated board products such as point of display stands. This study also covers the conversion of corrugated base papers into corrugated board and corrugated boxes.
The base weight of corrugated base papers can vary significantly but for liner it is typically in the range of 90-200gsm and for fluting it is typically in the range of 90-150gsm. The average base weight of corrugated base papers produced in the mills participating in this data survey was 135gsm.
The base weight of corrugated board depends on the specific corrugated base papers being used in the construction, plus the kind of flute (wave type) used. Different wave types lead to different heights of the corrugated layer and to different paper consumption (due to the take-up factor). In Table 2 indicative figures are given for different flute types, as an example.
Table 2 Flute types
| Flute | Flute height* mm | Number of flutes per m length of the corrugated board | Take-up factor | Glue consumption g/m2, glue layer |
| --- | --- | --- | --- | --- |
| A | 4,8 | 110 | 1,50-1,55 | 4,5-5,0 |
| B | 2,4 | 150 | 1,30-1,35 | 5,5-6,0 |
| C | 3,6 | 130 | 1,40-1,45 | 5,0-5,5 |
| E | 1,2 | 290 | 1,20-1,35 | 6,0-6,5 |
| F,G,N | 0,5-0,8 | 400-550 | 1,15-1,25 | 9,0-11,0 |
The take-up factor governs the amount of fluting material required to manufacture the corrugated board. It allows for the fact that, when laid out flat before converting, the area of fluting material required to manufacture a defined area of corrugated board is greater than the surface of the converted board itself. For example, a typical take-up factor for C-flute is 1.43, meaning that 1.43m2 of fluting (measured flat) is required to manufacture 1m2 of converted corrugated board, as shown in the example in Figure 5.

Example:
FEFCO Code 0201
Box weight:
650 g
Dimensions :
575 x 385 x 225 mm (L x B x H)
corrugated board C flute
Facings:
Kraftliner 175 g/ m2, Testliner 175 g/ m2
Corrugating
Medium:
Recycled Fluting 140 g/ m2
The composition of the corrugated board is then:
 
g/m2
Kraftliner
175
Recycled Fluting    
1,43 x 140 = 200
Testliner
175
Glue
2 x 5 = 10
Grammage
560
The base weight of corrugated board can vary significantly, from less than 300gsm to more than 900gsm. The average grammage of corrugated board produced by manufacturers participating in this study was 515gsm, which is close to the average grammage of 506gsm across the industry6. 
The corrugated board manufacturer can give the weight of the sheet before die-cutting. For a standard type construction the weight can also be calculated using the International Fibre Board Case Code published 
by FEFCO. In this code the form of the box blank is shown and by using the box dimensions it is possible to calculate the total length and width of the blank. Adding a 20 mm broad strip to the edges of the blank gives a fair estimate of the sheet area before die-cutting.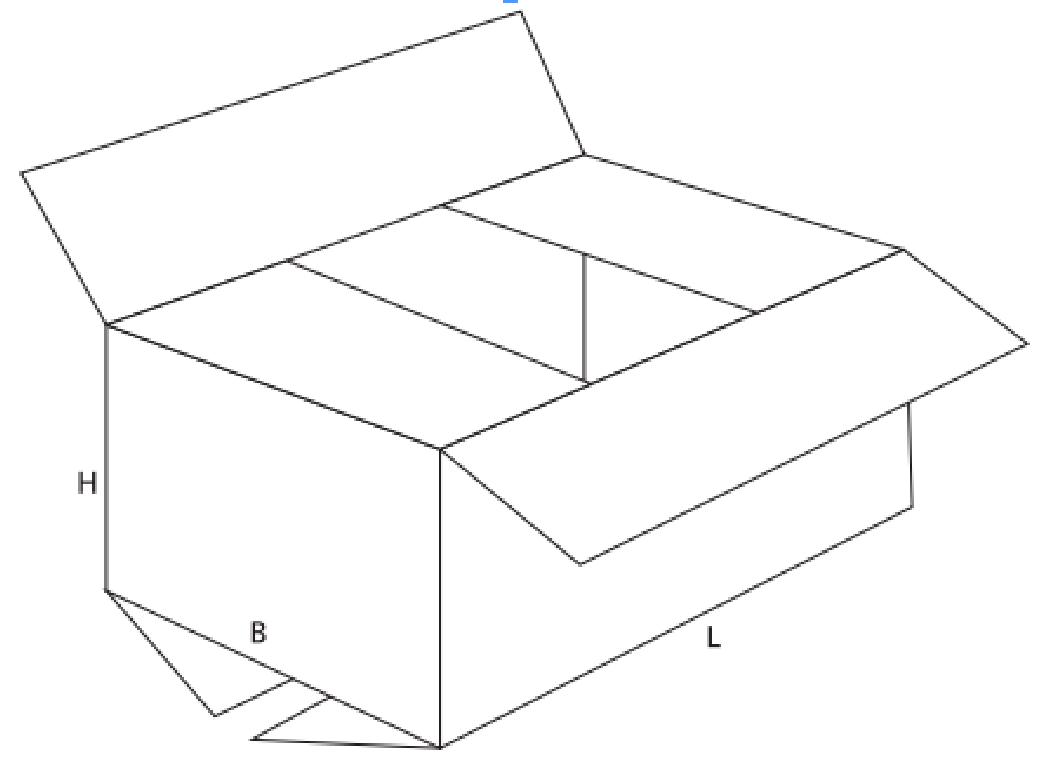 Considering an example from Figure 6 where L tot = 1.95m and W tot = 0.61m, the dimensions of the sheet are:
Asheet = (1,95 + 0,04) x (0,61 + 0,04) = 1,2935 m2 
and the weight:
msheet = 1,2935 x 560 = 724 g 
Assuming 3% as corrugator trimmings (i.e. ŋcorrugator = 0.97, a common value for modern corrugators), the consumption of liner and fluting can be calculated as follows:
| | | |
| --- | --- | --- |
|   |   | g/box |
| Kraftliner | 175 * 1,2935/0,97 = |  233 |
| Recycled Fluting   | 200 * 1,2935/0,97 = |  267 |
| Testliner | 175 * 1,2935/0,97 = |  233 |
| Glue | 10 * 1,2935/0,97 = |  13 |
|   |   | 746 |
Total (shavings) = 746 - 650 = 96 g/box = 12,9% of the input.
Please note that this is only an example of a particular box of a certain construction. Corrugated board boxes are far from standardised. They show a huge variation in composition, design and appearance. Boxes are usually tailor made to fit the user's needs and requirements which are determined by the product to 
be packed. The percentage of trimmings/shavings vary according to the design of the packaging. Since standard boxes do not exist, the database is set up in a flexible way giving the user the possibility to make calculations for any composition needed and using project specific assumptions on transport distance, waste management scenarios etc.