Data
The database may only be used for environmental studies regarding product development and improvement. The database may not be used for comparisons between the production of primary fibre and recovered fibre-based materials as such or for comparison to other materials.
The production of corrugated board is normally expressed in m2.
For LCA it is preferable to have it expressed in weight.
The table shows the calculated inputs and outputs for the production of 1 tonne of corrugated board in Europe with an average paper grade composition. The explanation of the calculation is reported in chapter 2.3.
For the average corrugated board product, the paper input is 1.147 tonnes/tonne corrugated board, with an output of 0.147 tonnes paper for recycling. 
Please note that corrugated board boxes are far from standardised. They show a huge variation in composition, design and appearance. Boxes are tailor-made to fit the user's needs and requirements determined by the product to be packed. The amount of paper and glue, percentage of trimmings/shavings vary according to the design of the packaging.
 On average 1.147 tonne of paper is used to produce one tonne of corrugated board. The original five datasets for the four main paper grades and corrugated board production from which the data are derived, are reported in the Annex. The data for the corrugated box is calculated by multiplying the average paper grade composition by 1.147 and adding the corrugated board data reported in the Annex.
Averages are only given for parameters that were available from all five data sets.
The average for the main additives by weight (input of more than 1 kg) are given, in total covering 90% by weight of the total input of additives.
Product
 
2018
 
tonne net saleable product
1
SOLD BYPRODUCTS
 
 
Tall oil
kg/t
3,46
Turpentine
kg/t
0,25
 
RAW MATERIAL
 
 
Wood consumption
as bone dry weight
(= 45% of transported total wet weight)
 
Softwood logs
t/t
0,16
Hardwood logs
t/t
0,04
Saw mill residues, softwood
t/t
0,02
Saw mill residues, hardwood
t/t
0,00
Total wood
t/t
0,22
 
Recovered Paper
as wet weight
1,09
Category
 
 
Mixed Grades
t/t
0,58
Corrugated and Kraft, pre-consumer
t/t
0,11
Corrugated and Kraft, post-consumer
t/t
0,36
Newspaper and Magazines
t/t
0,00
Other grades
t/t
0,04
 
Purchased pulp consumption
as bone dry weight
 
Bleached pulp
t/t
0,0032
Unbleached pulp
t/t
0,0003
 
Paper consumption for corrugated board production
 
 
Total
t/t
1,15
 
Cores
kg/t
2,53
Core plugs
kg/t
0,06
 
TRANSPORT OF RAW MATERIALS
 
 
Wood
 
 
Wood with truck
t*km

88,00

Wood with rail
t*km

71,16

Wood with boat
t*km

226,65

 
Recovered paper
 
 
Recovered paper with truck
t*km
344,38
Recovered paper with rail
t*km
21,43
Recovered paper with boat
t*km
32,21
 
Paper to corrugated board plants
 
 
Paper with truck
t*km
523,03
Paper with rail
t*km
373,92
Paper with boat
t*km
1987,75
 
ENERGY INPUTS
 
 
Steam
GJ/t
0,48
Bought Electricity
GJ/t
1,24
 
Fossil fuels
 
 
Natural gas
GJ/t
4,60
Heavy fuel oil
GJ/t
0,05
Light fuel oil
GJ/t
0,04
Diesel oil
GJ/t
0,01
LPG
GJ/t
0,05
Coal
GJ/t
0,54
Lignite
GJ/t
0,08
Peat
GJ/t
0,00
Total fossil fuel
GJ/t
5,43
 
Renewable fuels
 
 
Biofuel (bark, scrap wood, tall oil)
GJ/t
0,76
Total renewable fuel
GJ/t
0,76
 
Refuse Derived Fuel
GJ/t
1,17
Total fuel
GJ/t
6,18
 
WATER
 
 
Input total
m3/t
13,55

Ground water (non renewable)

m3/t
1,14
Ground water (renewable)
m3/t
1,87
Surface water
m3/t
9,92
Municipal water supply
m3/t
0,68
Rain water
m3/t
0,03
Other water received
m3/t
0,07

Water in-out

m3/t
1,07

 

 

ADDITIVES, DRY MASS
 
 
Alum (Al2(SO4)3
kg/t
0,65
Biocides
kg/t
0,16
Borax
kg/t
0,14
CaCO3
kg/t
1,23
CaO
kg/t
0,72
Coagulant
kg/t
0,00
Colorants
kg/t
0,75
CO2
kg/t
0,55
Defoamer
kg/t
0,29
Fillers
kg/t
3,12
Glue, cold + hot melts
kg/t
0,65
H2O2, peroxide
kg/t
0,47
H2SO4
kg/t
1,69
Water based ink for flexo printing
kg/t
1,82
Varnish for printing
kg/t
0,61
Ligno sulphonate
kg/t
0,63
Lubricants
kg/t
0,09
MgO
kg/t
0,03
NaClO3
kg/t
0,02
Na2CO3 (soda)
kg/t
0,28
Na2SO4
kg/t
 
NaOH
kg/t
2,37
NH3
kg/t
0,34
Oxygen, O2
kg/t
0,29
PAC (polyaluminiumclorid)
kg/t
0,00
Pitch despergents
kg/t
0,29
Polymer and retention agents
kg/t
1,09
S
kg/t
0,11
Sizing agents
kg/t
2,40
SO2
kg/t
0,00
Starch, corn
kg/t
28,40
Starch, potato
kg/t
0,21
Starch, wheat
kg/t
31,50
Starch, modified
kg/t
3,70
 
PACKAGING MATERIALS
 
 
Pallet
kg/t
na
Paper, board
kg/t
7,59
PE
kg/t
0,68
Steel
kg/t
 
Strapping
kg/t
0,48
 
EMISSIONS TO AIR
 
 
Dust
kg/t
0,02
Particulates, < 2.5 um
kg/t
0,00
Particulates, > 2.5 um, and < 10um
kg/t
0,00
Particulates, > 10 um
kg/t
0,00
CO2 (fossil)
kg/t
341,85
CO2 (biomass)
kg/t
293,99
CO
kg/t
0,38
NOx (as NO2)
kg/t
0,58
SOx (as SO2)
kg/t
0,15
TRS (H2S as S)
kg/t
0,00
 
EMISSIONS TO WATER
 
 
Water output
m³/t
 
Thermally polluted
m³/t
3,35
Process water after treatment
m³/t
9,19
Total
m³/t
12,64
 
Waterborne emissions
 
 
COD
kg/t
1,99
BOD 5
kg/t
0,62
TOC
kg/t
0,83
Suspended solids
kg/t
0,62
Total Nitrogen
kg/t
0,13
AOX
kg/t
0,00
Total Phosphorus
kg/t
0,01
 
RESIDUES
wet weight
 
Calcium Carbonate
kg/t
1,51
Ink residues
kg/t
0,44
Inorganic ashes (10 01 01)
kg/t
7,04
Inorganic sludges
kg/t
1,02
Organic sludges (03 03 01 and 03 03 11)
kg/t
63,76
Paper for recycling
kg/t
147,00
Rejects, paper related
kg/t
22,92
Rejects, other
kg/t
45,84
Starch, glue (wet weight)
kg/t
0,02
Lubricants and oil
kg/t
0,08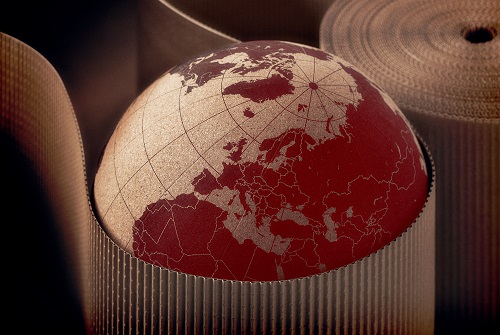 Read more