FEFCO Influencer Days 18 -19 March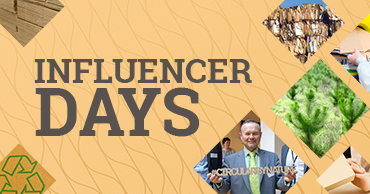 FEFCO welcomes top European influencers to Brussels
FEFCO, the European Association of Corrugated Cardboard, is pleased to announce that between the 18th and 20th of March, it will receive some of Europe's leading journalists, bloggers, and influencers to Brussels for our event, Influencer Days.
The event will be a great chance for important influencers—including national journalists from newspapers and trade publications—to learn more about how cardboard is 100% recyclable, bio-based, and biodegradable—in other words, a true circular economy champion. Attendees will also see, in a hands-on way, how corrugated is the ideal packaging material (especially for e-commerce), and why it has a much lower impact on the environment than other options. As much policy and debate is happening on these fronts, now is the perfect time to spread the facts.
Attendees can expect two busy and engaging days, where they will be able to dive into important issues. They will experience an intro to policymaking in Brussels and make visits to the European Parliament (hosted by MEP Davor Škrlec), as well as a visit to a leading company that produces customer-specific packaging and consumer goods, and a paper and corrugated packaging plant.
These visits will enable the influencers to engage with policymakers and members of industry on topics that are important to our future, namely, the circular economy, recycling, e-commerce, and food waste. Of course, they will also be able to benefit from leisure activities in Brussels, including visits to chocolate and beer stores, and the great food the city has to offer.
If you wish to follow along as our influencers engage with and learn from policymakers and members of our industry, we encourage you to follow us online—on Twitter, Facebook, and LinkedIn—where we will be posting updates, photos, and more throughout the event. And if you wish to attend an event like this in the future, follow us on social media for event updates or reach out to us directly. We'd be very happy to welcome you.
Related content