Testing methods & recommendations
FEFCO developed a set of testing methods and recommendations to support its members and to create a common basis for communication between corrugated manufacturers and their customers.
 
FEFCO Classification
FEFCO classification for quality grades of converted corrugated board is available in three languages (FR, DE, EN).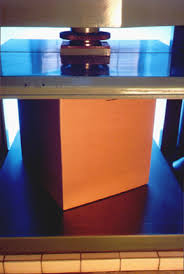 FEFCO Testing methods
FEFCO testing methods are developed by the industry and follow internationally recognized principles.
List of testing methods for corrugated board:
2
Determination of basis weight
4
Determination of bursting strength
5
Determination of puncture resistance
6
Determination of flat crush resistance
7
Determination of water absorptiveness (Cobb test)
8
Edgewise crush resistance
9
Determination of water resistance of the glue bond
10
Determination of basis weight of the component papers
11
Determination of adhesion strength of the glue bond
List of testing methods for corrugated packaging:
50
Determination of compression resistance
51
Vertical impact test by dropping
52
Vibration test at fixed low frequency
All testing methods are available as an electronic booklet in three languages:   English   French   German
The FEFCO Recommendations are supplementary to the internationally recognised FEFCO Testing methods. The list of recommendations contains: