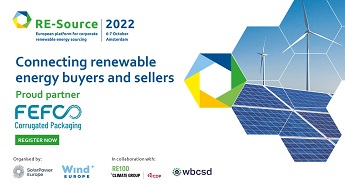 Direct sourcing of renewables – the key for Europe's energy competitiveness, security and climate goals
The RE-Source event is the largest annual gathering in Europe of renewable energy buyers and suppliers. With more markets opening up to the corporate renewable sourcing opportunity, RE-Source 2022 is the perfect platform to network, learn and do business with key players from the renewable energy world.
With its REPowerEU action plan from May 2022, the European Commission strives to achieve energy security and independence in the next few years. The geopolitical shock of Russia's invasion into Ukraine is felt across Europe in the form of a dramatic rise of fossil energy prices. The stability offered by Power Purchase Agreements is now more valuable than ever – and will be one of the main themes of RE-Source 2022.
Whether you are an experienced buyer or seller, or new to this sphere, this event will have relevant content for you. Each day will be customised to the different needs and interests of our participants, with three days filled with sessions, workshops and roundtables on various topics:
On-site generation of power
The impact of the energy and climate crisis on energy procurement
More and faster RES deployment: how will it be delivered?
Pricing of PPAs
Green hydrogen and PPAs
Renewable Heat Purchase Agreements 
Mitigation of risk of PPA projects
Regional focus: PPA markets in Central and Southeastern Europe
Supply chain and Scope 3 emissions
24/7: next level ambition for full grid decarbonization
What your CFO needs to know
How to make PPAs suitable for SMEs
Learn more and register now: https://resource-platform.eu/2022