Where and when?
Wednesday 1 February 2017
Maritim Hotel Düsseldorf
Maritim-Platz 1
40474 Düsseldorf
Phone: +49 (0) 211 5209-0
Fax: +49 (0) 211 5209-1000
Room: Peking BC (1st floor)
The hotel is 5 minutes walk from the airport

For requests regarding the access to the hotel, parking and so on, please contact Marie Kathrin Schiereck-Gößling on +49 211 5209-1422 and refer to "FEFCO Workshop on 1st February"
 
Programme
The objective of this event is to go as much as possible into one topic in depth to offer FEFCO members a unique opportunity to get in one day a complete market overview of Casemakers. Each supplier presentation is 40 minutes long including questions, this will give them enough time to fully present their latest technology developments and the opportunity to better share their knowledge and technical information.
During this intensive day you will learn more on the various stages of casemaking and future improvements:
•    Printing
•    Folding
•    Die-cutting  
•    Productivity
•    Industry 4.0
•    Individualisation possibilities
•    Line configurations
 
Agenda
09:00

Welcome by FEFCO

 Angelika Christ, Marc Van Damme & Klaus Lüke

09:10
BGM
 Ralf Schiffmann & Ulrich G. Wolz
09:55
Bobst
 Yves Bletterie

10:40

Coffee break 

 
11:10
BW Papersystems                 
 Steve Biller 

11:55
EMBA Machinery 
 Esa Koski &

Olof Ronquist

12:40
Lunch 
 
14:10
TCY
 Olivier Toutin & Ken Hsiao
14:55
MHI Europe
 Shimizu, Masami,

Kunio

Niuchi & Giovanni Bettini
15:40
Conclusions
 

Marc Van Damme & Klaus Lüke

16:00

Closure 

 
Registration now open!
This workshop is for the FEFCO members only.
The registration fee is 395 € (excl. 19% VAT)
Cancellation policy:
50 % refund before 31 December 2016  
No refund after 1 January 2017
 
Hotel booking -

Deadline 9 January 2017!
If you need accommodation, you could book a classic room at Maritim Hotel Düsseldorf at the cost of 179,00€ per single room and 213,00€ per double room / per night including breakfast (Excl. Taxes).
Reservation on +49 (0) 211 5209-1456 or at info.dus@maritim.de with a copy to houriet.lefebvre@fefco.org. 
Please refer to "FEFCO Workshop Call-in Allotment".
You will be requested to provide the hotel a credit card details to secure payment so please have these ready when making your booking.

Please beware that at this time of year, the Maritim Hotel may be fully booked, we therefore highly advise you to book a guest room without delay.
Although FEFCO has negotiated a special rate, you may find lower on the Internet.

Cancellations are possible until 7 days before arrival.
 
Access
Acess plan to the Maritim Hotel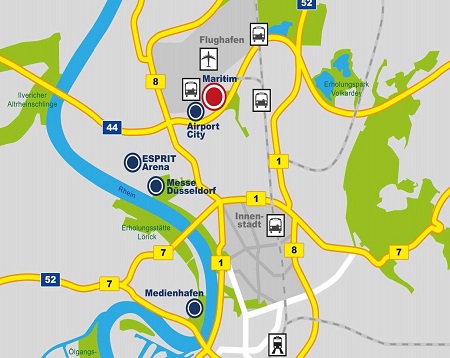 For access details Click here

Please contact us with your questions at houriet.lefebvre@fefco.org or nschneegans@fefco.org
See you in Düsseldorf!